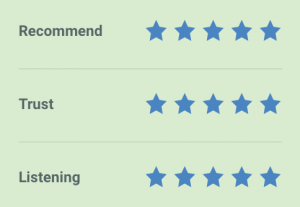 18/9/18 Breast augmentation review: 2018 was the year I decided to go ahead with Breast Augmentation surgery. After extensive research, I chose Mr Andrew Morritt as my surgeon. From my first consultation with Mr Morritt, he made me feel at ease. I found him to be highly professional and knowledgeable in answering all my questions. I was not rushed and immediately felt confident I was in very safe hands. Mr Morritt is without a shadow of a doubt the friendliest, caring and most highly skilled surgeon I have encountered. He has a very empathetic nature, plus a great sense of humour! I am more than DELIGHTED with the results of my surgery. If you are lucky enough to have Mr Morritt as your surgeon, you will not be disappointed.
6/9/18 Exchange of ruptured breast implants and breast uplift review: I recently had surgery to remove my 30 year old silicone breast implants, and a breast uplift. The implants had capsulated and were causing discomfort. I was extremely impressed by my Consultant Surgeon Mr. Andrew Morritt. I found him to be a kind, extremely patient, understanding, honest, approachable and professional person. He was very knowledgeable in answering all my questions, and explaining the procedure in detail with diagrams and photographs, in order for me to understand what to expect before and after my surgery. Mr Morritt understood my concerns and fears regarding the surgery and recovery and reassured me every step of the way. He agreed for me to go to theatre first and was very reassuring on the day of the operation and put me at ease. After surgery and during my recovery in hospital Mr. Morritt was also very attentive. Through out the whole procedure he has always been extremely patient and given his time freely. I have never felt rushed and he has a lovely relaxed and calm manner about him. I am delighted with the outcome of my breast uplift, and wouldn't hesitate to recommend Mr. Morritt for breast surgery. I have had no problems such as infection while recovering and no real issue with pain. I felt I could trust Mr. Morritt, and that I was in safe, capable hands.
24/8/18 Breast enlargement review: I had a breast augmentation with Mr Morritt and cannot describe how happy I am with the results. I was so scared beforehand as id never had any sort of surgery before but Mr Morritt made me feel so comfortable. He is so easy to talk to and I felt I could ask any question at any time. I could not recommend Mr Morritt enough.
20/8/18 Unknown plastic surgery procedure review: I highly recommend Andrew. He is by far the best in every aspect. Not only is he a great surgeon and achieves the best results, he is a lovely genuine person & has all the time in the world for his patients. Listens thoroughly & explains in detail. Cannot praise him enough. 5⭐
17/8/18 Breast enlargement review: Mr Morritt and all his staff have been fantastic from start to finish. I have just had my 6 month check up after having breast augmentation and I am amazed with my results they are better than i could have wished for I cannot thank them enough.
2/8/18 Eyelid surgery review: After considering upper eyelid surgery for the past couple of years, I was recommended to see Mr Morritt for the procedure. I must admit that I was extremely nervous prior to the consultation but was immediately put at ease by Mr Morritt and had no hesitation in going ahead. He was patient, kind and understanding and took all the time needed to explain the procedure and answer any questions I had. I had the surgery at the end of June 2018 and am now 5 weeks post op. Throughout, Mr Morritt and indeed, the whole team at Claremont, were helpful, cheerful and nothing was too much trouble for them. Post op. I would say it was uncomfortable for a few days but there was no actual pain at all. I would highly recommend Mr Morritt, he is outstanding in his patient care, always smiling, and explained everything clearly and concisely. I am so very pleased I went ahead with this and thank Mr Morritt and his team for the care and attention I received.
17/7/18 Breast reduction review: Mr Morritt is such a caring, professional and skilled surgeon. At all times before, during and after my surgery I was treated with care and respect. During this frightening time for myself I always knew I was in good honest hands. I highly recommended Mr Morritt to anyone who is looking to have a breast reduction in the future. Thank you again.
16/7/18 Tummy tuck review: anybody thinking of having surgery by Mr Morritt can precide without any fears or worries highly proffesional service, i was kept well imformed what to expect with my tummy tuck throughout.The trasformation is unbelievable.If you can imagine getting back into sizes and styles of clothing which i havent been able to wear in 30years the trasformation is incredable if any doubt ask MR Morritt to see my pictures the before and after.Mr Morritt is a highly dedicated proffesional and so easy to talk to he is very understanding to your needs nothing is to much trouble and that also applies to the rest of the nursing staff.
11/7/18 Breast augmentation: I underwent a breast augmentation in May 2018 with Mr Morritt. My care from the offset was impeccable, from the first consultation to my final follow up appointment. Mr Morritt listened to everything I wanted, along with my concerns about the procedure and long term potential problems. He reassured me whilst providing honest and accurate information. I am extremely happy with the final results and would recommend Mr Morritt to anyone considering this procedure.
2/7/18 Breast reduction: I under went a breast reduction with Dr Morritt, he had been recommended to me. After years of debating should I shouldn't I, and getting very down about the whole situation, I can honestly say it is the best thing I have ever done – I feel like a different person, the change in my appearance is just amazing – I wish I had done it years ago. From my initial consultation with Mr Morritt, he made me feel so at ease and 100% understood how this was not just a physical situation but an emotional one too. Gaynor, Mr Morritts assistant was just incredible from the start, answering all my questions and making me feel so comfortable and relaxed to arriving at my bedside the following day from the operation with some flowers. Mr Morrits attention to detail was fabulous and I am so pleased with the new me. A huge thanks to him and everyone at Claremont.
13/6/18 Cyst removal from face: Mine was only a 'minor' problem, removal of a small cyst, but the treatment was excellent. There is no easily visible scar, after-care too was very good.
30/5/18 Breast implants, Breast uplift: I recently had breast implants and an uplift follwoing losing weight. Mr Morrit was attentive and explained the whole procedure thoroughly and put me completely at ease. A week later I had eye lid surgery to remove excess skin from the upper lids. I was nervous as awake however I was chatted to throughout the experience which was just want I needed to calm my nerves. Nothing was too much trouble for himself and Claremont Hospital. I would recommend to anyone looking into surgey. Thank you I am over the moon with the results
29/5/18 Mole removal: Had 2 tricky moles removed from my ear. Could have left me with scarring or a misshapen ear. Mr Morritt put a lot of thought into my procedure and the result was excellent. I would definitely recommend this doctor to anyone.
10/5/18 Tummy tuck and thigh liposuction review: I had a tummy tuck and Lipo to my upper thighs 5 weeks ago and the result had been excellent. I am so happy with the results. Mr Andrew Morritt and his team were excellent from the 1st moment I got there. I can not praise mr morritt enough. The anesthetist was excellent too. The nurses were fab and so compassionate. When I arrived for my surgery, The lovely gaynor came to meet me and took me too my room, which was like a 5* I I was very nervous about the pain and recovery,and was close to cancelling it , but mr morritt came out of theatre to speak to me, he told me the decision was still mine and didn't push me in to anything. I went ahead and I'm so so glad I did. The pain was horrendous at 1st a bit simelar to a c section, but I would say the 1st week was the worst. I tried to get out of bed as soon as I could, walked round. Did everything I was told to do, no bath or shower, just strip wash. Took my pain killers when I should have done, and I used my support garments every day and night for 5 weeks, then I switched to Night times to reduce swelling. I had no problems what so ever after the opp. I went for my 6 week check up and the results are amazing, I have a neat scar, but my belly is totally flat. The Lipo to my upper thighs are minimal but still better, and noticeable. The overall experience has been 100 percent. Well done to everyone involved and a massive thank you.
15/3/18 Thigh lift review: I cannot speak highly enough of the care I have received from Mr Morritt after having thigh lift and reduction surgery after losing a considerable amount of weight. I had three consultations before surgery so we could discuss what was achievable and what my expectations were. He contacted me at home after surgery to check how I was . I had a minor problem after surgery which was dealt with by Mr Morritt on a Saturday that he wasn't even due to be in the hospital . I would whole heartedly recommend Mr Morritt as he has given me a new lease of life . He is compassionate ,caring and an excellent Surgeon.
9/3/18 Lump removal: Mr Morritt explained all the procedures involved in removing a lump from the eye area in a way that I would understand. From seeing Mr Morritt in his clinic to going into day surgery Mr Morritt made me feel at ease , during my operation he kept me informed of what he was doing On my discharge at the Hallamshire Hospital Mr Morritt explained what the lump was and said if I had any more problems not to hesitate to call the department
23/1/18 Breast augmentation review: After considering a breast augmentation for many years, I finally came into a position to be able to consider it at the age of 26. I was recommended Mr Morritt by someone who had already been through the breast augmentation procedure with him. From start to finish he has been nothing but professional. Listened to my (and my mum's) expectations in my first consultation and answered any questions & concerns that we had. After my second consultation I booked my breast augmentation and I'm now 6 weeks post operation & I'm thrilled with my results. I was very set on wanting a natural look & worried about them looking fake, which they don't at all. Leading up the the surgery I had a couple of questions I'd forgotten to ask Mr. Morritt as my nerves kicked in. He took time out his busy schedule to phone me himself to ensure I had all my questions answered and it really put my mind at rest. I really like how down to earth Mr. Morritt is, whilst professional. My recovery was easy and the follow up excellent. I can't thank him enough!
20/10/17 Breast augmentation review: Mr Morritt is a marvelous consultant who has made me feel very much at ease during my cosmetic surgery journey. I have never once felt pushed into any decision making, never felt under obligation to proceed and never received any biased information. I'm absolutely over the moon with my results at nine weeks post op and the level of care has been tremendous. I wished for an increase in volume and a natural look from breast agumentation and that is exactly what I have received. Thank you to Mr Morritt and all the staff at Claremont Hospital who provided an excellent service.
6/10/17 Breast enlargement review: Fantastic surgeon and care throughout my procedure. I felt at ease and confidant with mr Morritt doing my surgery. I am so happy with the results.
3/10/17 Cosmetic surgery review: At every appointment Mr Morritt was professional and informative but also down to earth and easy to talk to. My care was outstanding during my stay and also as an out patient afterwards. I am thrilled with the results of my cosmetic surgery and would happily recommend Claremont and Mr Moritt to others.
22/9/17 Sarcoma treatment: Mr Morritt has a very calm and personable approach. I am very confident in his decision making.He was very thorough in his diagnosis of my sarcoma, and kept me informed as to what my treatment would entail, including anticipated recovery period. As long as future patients pay attention to the team's recommendations, the anticipated outcome will be achieved. My family and I cannot thank Mr Morritt and his team enough, and thanks to the NHS, all for free !!!
24/8/17 Sarcoma treatment: Mr Morritt is the person we all hope to meet at the time of medical need. He is a great communicator who relates to you as a person. Truly professional and extremely good at his vocation. I cannot priase him or the staff at the Royal Hallamshire enough.Thank You.
31/7/17 Breast augmentation review: I went to see Mr Morritt for Breast Augmentation surgery and had surgery on 16/6/17 as I wanted to feel more in proportion (I am a tall girl and wanted curves in relation). Not only was the care great from start to finish, Mr Morritt was very genuine, easy to talk to and he was very understanding and compassionate with the fact that my mum died in an unrelated surgical procedure, that was not related to this but it put me and my family at ease knowing that he was aware of this and took it into account. Further, my results are just what i wanted and he understood that i wanted a more natural look, and i have had a very smooth recovery and the scars are really neat. I would not hesitate to recommend him to other patients.
27/7/17 Breast reduction review: I had a breast reduction 7 weeks ago in the Hallamshire hospital performed by Mr Andrew Morritt the surgery went very well & I am thrilled with the result . Mr Morritt is very highly skilled & the end result is exactly as he said it would be , I was a 36g now I am 36d . I now have much more confidence, lots of people have commented on this ,my posture is improved my neck pain has gone & my breasts are so much lighter I can run go to dance classes & the gym pain free at last . The difference this has made to my life is major & I can't thank Mr Morritt enough I am an older lady (60) & I was concerned about the scars healing because of this but Mr Morritt assured me they would be fine & he was right I am very impressed they already look minimal & will obviously improve over time Mr Morritt is very friendly & easy to talk too I can't recommend him highly enough one very satisfied patient.Thank you again.
25/7/17 Breast reconstruction DIEP flap: I really felt I needed to share the fantastic experience I recieved under the care of Mr Morritt during my recent Diep flap operation. His kind friendly nature made me feel at ease instantly and he was happy to join in with my sense of humour and I felt I could relate to him easily. I had thorough consultations and was happy to be guided by his advice on the Diep flap. Nothing was too much trouble and no questions were to silly, even when I asked if he would make sure I didn't look like I'd been bitten by a crocodile!! The op was long, but I slept happily through the whole thing. I truly had no pain and was off the morphine within 12 hours. I was amazed how comfortable I felt the next day and was up out of bed. Everyone was great at the hospital, checking my new breasts every 30mins. I laughed my way through my week stay st the Hallamshire with regular check ups from Mr Morritt. I had 6 drains in and was a bit uneasy about them coming out !!! It was fine I've had much more pain having my legs waxed !!! I had a very smooth recovery and loved doing no house work for 6 weeks My scars are healing fantastic and are so so neat, I'm amazed at how fantastic my new breasts look and of course my new flat tummy. The new boobs look and feel like my own, many years ago. I can even wear dresses without a bra. Mr Morritt did a fantastic job and I couldn't be happier with the results. I would throughly recommend the Diep flap and of course Mr Morritt. Thank you so much for putting me back together,even better than before !! The Diep flap is an amazing way to end your breast cancer journey.
6/7/17 Unknown plastic surgery procedure review: From my very first visit to my last,I have always received wonderful care.Dr Morritt always had time for you ,answered any questions and explained everything in detail. I can't recommend him enough. Thanks for everything Helen.
6/7/17 Breast reconstruction DIEP flap: My first meeting with Mr Morritt in July 2015 was such a relief; to be able to discuss, understand and be advised what the best procedure was for me was very important. I had my mastectomy operation in France in October 2012 followed by Chemotherapy and Radiotherapy. To not be able to understand french very well led to misunderstandings in communicating with the doctors and nursing staff and just generally getting frustrated with not knowing enough made me even more anxious than I was already feeling. Even though the medical procedure was very good I felt that I wanted reconstruction in my home town of Sheffield, it was too important to me to get it wrong. I researched several types of reconstruction and decided the Dieppe flap reconstruction was the type I would like and I hoped it was suitable for me. I was referred to the plastic surgery dept. at the Hallamshire Hospital this is where I met Mr Morritt. He made me feel at ease and I liked him from the start he listened and was patient, he doesn't rush his appointments and he understands the importance of the emotional side of the operation, he has a very caring nature and clearly he is happy in his career (he has the best smile). I was relieved that he knew and was experienced in the Dieppe flap reconstruction, he explained it in great detail and he was confident that it would be suitable for me. The operation was carried out in March 2016 and it was a great success I am thrilled and eternally grateful to Mr Morritt and his team. Later in the year I had lypo filling to balance my breasts and I have just undergone the nipple sharing operation which is just amazing, I was a little nervous this time as I was awake during this procedure having only a local anaesthetic but the whole team in the theatre were friendly and chatting and soon put me at ease. I feel very fortunate to have had such a skilful, pleasant and caring surgeon…thank you Andrew Morritt I'm a very happy lady.
4/7/17 Breast reconstruction DIEP flap: Mr Morritt is a truly brilliant surgeon! I had a DIEP flap procedure in June of last year after a second breast cancer diagnosis. Whilst I fully acknowledge the initial lumpectomy and lymph node removal were necessary 12 years ago I was left with a body I hated and my confidence at an all time low! Mr Morritt and the breast consultant explained to me that procedures had improved and I could have the mastectomy and reconstruction at the same time but never in my wildest dreams did I expect the results to be so overwhelmingly good! Mr Morritt in particular explained what he thought he would be able to achieve and why he could do this. His team were also caring and supportive but his skills are phenomenal and he has given me my life back!!!
3/7/17 Breast reconstruction: I can't thank mr morritt enough he is an excellent surgeon from his help I can now enjoy my life and not be miserable and I now like the body I've got thank you.
30/6/17 Sarcoma excision: From my very first visit to Mr.Morritt I found him very approachable and easy to converse with concerning my sarcoma cancer. He was very informative and explained very clearly what treatment was required in my case. On the day of the surgery I felt confident and he always asked if there were any questions that I had. I had to have a second operation but again it was all well explained and I always felt that he was sympathetic to me as a patient. I am pleased to say that I have recovered well and will continue to be followed up at Weston Park. I would highly recommend Mr.Morritt and his team to anyone who had to face surgery.
20/6/17 Breast reconstruction: Andrew was initially a little shy but has proved caring, very thorough and gave me all the time I needed at all our appointments before and after major surgery. I have also been very pleased by the whole team of nurses and medical staff who have helped me through a very difficult period of my life.
18/6/17 Lump removal: Mr Morritt successfully removed a large cyst at the back of my neck. He was professional, personable, efficient and the operation was a complete success. I cannot think of anything to suggest that would improve his approach and manner. First rate!!
18/5/17 Sarcoma excision from forearm: Mr Morritt performed surgery on my forearm and hand. He was exceptional and professional throughout. He kept me well informed and answered any questions appropriately. I would recommend this Doctor in the future. I appreciate all the care, understanding and expertise given. Thank you Mr Morritt.
17/5/17 Breast reconstruction: A wonderful man who restored my confidence after breast cancer. He is very down to earth and listened carefully to everything I had to say.
11/5/17 Earlobe reconstruction (spacer earrings): My experience as a patient of Dr Morritt was fantastic. My procedure (bilateral earlobe reconstruction) is perhaps not one of the most common ones around, however Dr Morritt was extremely knowledgeable about exactly what needed to be done, and explained it very clearly. The period between deciding to have the procedure and sitting back being happy with the results could not have been smoother, with my only regret being that I didn't get it done sooner. I expected at some point along the way to have some anxiety about the fact that I was undergoing a surgical procedure – amazingly, there was none, and I credit this to having a great doctor. When undergoing a procedure, you will likely have an idea of what the best possible results will be. I had high expectations going into it, and I'm extremely pleased to say that they were exceeded. Dr Morritt handled my operation in a professional and friendly manner. I was actually excited to go to the follow-up appointment just to show him how well it turned out. If I could give more than 5 stars, I would.
7/5/17 Unknown plastic surgery procedure review: He was kind, considerate and explained in full what my operation entailed and full details of aftercare. Overall excellent and no suggestions to improve. very professional
2/5/17 Removal of skin cancer and skin graft: A very amiable man who put me at ease and explained the procedure. He is supported by a very good team who did an excellent graft, which I am very happy with, cannot thank them enough.
15/4/17 Removal of lump: I could not fault the care and attention I received from Andrew Morritt at the Claremont Hospital Sheffield. I had a small operation at the Minor Ops clinic. All the staff were very helpful and caring. I have no hesitation in recommending Mr Morritt.
23/3/17 Plastic surgery: Mr Morritt is without a shadow of a doubt one of the friendliest, caring and trusting Health Care Professionals I have ever encountered. He explained everything 100%, he has a very empathetic nature whilst having a sense of humour too. His work is impeccable and I am overjoyed with the outcome of my surgery. Thanks for everything.
20/3/17 Removal of breast implants and breast uplift review: On 31st October 2016, I underwent an operation on my breasts to remove my 15 year old silicone breast implants, and a bilateral breast uplift. I was extremely impressed by my Consultant Surgeon Mr. Andrew Morritt. I found him to be honest, approachable, professional, curteous, highly knowledgeable in answering all my questions, and explaining the procedure with diagrams, so that I could understand what to expect before and after my surgery. Mr Morritt was on hand to answer any queries I had during my recovery, and was very attentive during my stay in hospital and my aftercare. I am delighted with the outcome of my breast uplift, and wouldn't hesitate to recommend Mr. Morritt for breast surgery. I have had no problems such as infection while recovering. I felt I could trust Mr. Morritt, and that I was in safe, capable hands. Mrs. Joanne Gordon.
18/3/17 Abdominoplasty review: From the very start when I met Mr Morritt I was put at ease and informed thoroughly about the procedure I was considering. At the second consultation I had made my mind up that I would be definately having him do my surgery. He had a professional and caring manner who didn't make me feel rushed and explained everything at every stage and reassured me over any concerns. I am very happy with the results of my surgery and from beginning to end I received excellent care with a personal touch and got a very high level of after care. I would highly recommend him to anyone considering surgery.
11/3/17 Breast Reconstruction with Free SIEA flap: After being told that I needed a mastectomy, I decided that I wanted an immediate reconstruction and was interested in having a SIEA flap reconstruction. I was referred to Mr Morritt who instantly made me feel at ease and instilled me with confidence. He was very clear about what the procedure would entail, what outcome to expect and was honest about the complications that could arise. He spent as much time with me as I needed to enable me to make the decisions about my treatment, nothing was rushed; he made me feel as if I was the only patient he had at that time, and I know how busy he is. I feel very lucky that I am in Sheffield and have access to a surgeon like Mr Morritt as not every plastic surgeon can perform this operation. I cannot speak highly enough of his dedication to getting me the best outcome I could have. He spent hours in surgery and then came back in the early hours of the morning to ensure that I was OK. The first time I looked at the results of my reconstruction I was amazed, in my head I knew that I had had a mastectomy, but my eyes were telling me I hadn't!! The result was incredible and I will be eternally grateful to Mr Morritt. I don't underestimate the psychological effects of having breast cancer and having a mastectomy, but through Mr Morritts skill and care, I still have trouble thinking that any of that happened to me. I have to mention the breast care team at the Hallamshire and say how marvelous they all were. I do think that what helps that close team working is the respect and affection that the team have for Mr Morritt, the other surgeons and each other. If you have the good fortune to have Mr Morritt as your surgeon, you could not be in better hands.
9/3/17 Sarcoma excision: I had the pleasure of meeting Dr. Morritt when I was referred to him with a large lump on my chest after having an ultra sound and an MRI scan. When he entered the room he made you feel at ease with his friendly manner and big smile on his face. The lump turned out to be a lipo sarcoma and Dr. Morritt reassured me that he was confident it would all be removed with surgery . My surgery went ahead and even right up to me going down he explained everything they were going to do . My two follow up appointments I was reassured that all the cancer was removed. I would recommend Dr. Morritt to any one has he is a credit to his profession. I am very grateful to Dr.Morritt for what he has done for me .Yours sincerely Karen Bradshaw
3/3/17 Breast augmentation review: I have recently had breast augmentation surgery performed by Mr Morrtit. He always kept me at ease by explaining each step of the surgery and making sure I was as comfortable as possible. The after care I have recieved has been brilliant and Mr Morrit has always answered any questions which I had as quickly as possible. The surgery which Mr Morrit has done is amazing, it really has changed my life and improved the confidence which I have with my body so much! I would highly recommend him to anyone.
24/2/17 Skin cancer excision and skin graft: In October '16 I attended the Hallamshire Hospital for the surgical removal of a basal carcinoma and a skin graft. I was filled with trepidation. Mr Morritt entered and immediately put me at ease, explaining the procedure I was about to undergo and the likely duration of it. Sensitively, he drew some personal information out of me appearing genuinely interested in my responses and drawing on them occasionally during the surgery and on my two follow-up appointments. He always smiles when engaging with a patient, unless he has dire news to impart, treats the patient as an intelligent human being with a personality and gives the impression that he is happy to be generous with his time. Above all, he inspires one with confidence in his knowledge and skills. I have no suggestions about how he could improve on 'excellence'. Mr Andrew Morritt is a prime example of the new breed of medic who relates well both to patients and to members of his medical team. Jennifer Mccracken
2/2/17 Breast reduction review: The care and attention I have received from Mr Morritt has been second to none, I was referred to him for my breast reduction operation and I was really scared to begin with but Mr Morritt reassured me and talked me through the procedure. I had a really successful operation and the aftercare has also been fantastic. I'm really greatful to have received the high standard of workmanship from Mr Morritt who really has changed my life.
1/2/17 Schwannoma (lump in nerve) excision: I was referred to Mr Morritt with a lump on my leg by my GP. I had had this painful lump for a while and it was quite a shock when my GP said I had to be referred to Sheffield after undergoing MRI scans and told it could be cancerous. When I met Mr Morritt at my first consultation he firstly reassured me that he had reviewed my scans and was of the opinion it was not cancerous and nothing for me to worry about. He explained in detail what my options were and after a discussion he left the room for me to talk to my daughter for a few minutes to decide whether I wished to have the lump removed. I decided to have it removed and I felt immediately reassured by Mr Morritt's calm approach to the forthcoming surgery as he explained to me what it would entail. I duly returned a couple of weeks later and had the surgery. I had the surgery under local anaesthetic and the procedure was completely pain free and the result excellent. Even in the immediate post operative period I had no pain or problems and what a difference this has made to me. I returned a few weeks later to Mr Morritt's clinic where he gave me the confirmation that the biopsy was not cancerous but was a lump resting on the nerve. Again Mr Morritt fully explained the diagnosis to me and asked if I had any further questions. I was not rushed at all and my whole journey has been stress free and only by the professionalism of Mr Morritt. I have been very lucky indeed to have been treated by such a gentleman and he is a credit to his profession.
1/2/17 Breast reconstruction free DIEP flap: Dr/Mr Morritt is an absolutely talented, truly caring and compassionate surgeon. Having received the news of my mums breast cancer, my worse fears were lifted after the consultations. All the options and reconstruction routes were discussed very carefully, ensuring mum was happy with the outcome. All throughout the process, his professionalism, attention to details and care were second to none – I definitely feel my mum received the best possible outcome to rival private care, which was only made possible by Dr/Mr Morritt. Thank you for all you have done for my mum, she is extremely happy with her reconstruction and back to her old self again, feeling confident and happy and our family will be forever grateful.
1/2/17 Breast reconstruction free DIEP flap: Mr Morritt from the very start of me being diagnosed was not only clear and supportive but reassuring and truly cared for my individual needs, lifting my worries and completely putting me at ease like no other doctor I have experienced. His consultancy prior to my operation was clearer and more factual than I thought I would receive, his advice and experience allowed me to select the most suitable option for my condition. Throughout and after my operation, Mr Morritt attended to me and checked on me daily whilst in hospital, ensuring I was recovering well and getting the care I needed from the nursing team. I cannot thank Mr Morritt enough and my words do not do him justice, for he is not only a great surgeon but his caring approach and support is second to none. Even up on receiving my results and after care several weeks after gave me real reassurance that my reconstruction went extremely well and I personally feel my reconstruction looks absolutely amazing, I couldn't have wished for a better result. Thank you very Mr Morritt, I am truly grateful.
28/2/17 Sarcoma excision: From the moment I met Mr Morritt at the Sheffield sarcoma clinic i instantly knew I was in safe hands. I was terrified regarding my huge arm lump and I was reassured every step of the way , and most importantly I felt comfortable on the journey that was about to unfold. He has a wonderful manner and is so kind, gentle and just a wonderful person who I owe my life to. Even on the day of my operation he made me feel reassured and his lovely smile made me smile too. It's a big day I will never forget. It's been a traumatic rollercoaster for me but I feel very lucky that I got the best surgeon who made me have so much confidence to stay positive throughout my journey at sarcoma clinic. I had extensive surgery of which I now have a perfect arm and a very neat scar. I have found this hard to write but if you are fortunate enough to have Mr Morritt as your surgeon you will have the best person you could wish for. Mr Morritt if you read this you are my hero you saved my life, and I thank you from the bottom of my heart..I really do. X. (Amanda H, Sheffield)
1/12/16 Breast reduction: From my first visit to my last visit I have received exceptional care from Dr Morritt .Dr Morritt has been amazing , he has always asked if I have any questions and he has always explained everything in great detail and made me feel at ease.The surgery wasn't painful at all and the end result exceeded my expectations. Thank you Dr Morritt for everything you have done, this operation has made such a difference to my life and I am extremely grateful.